Creating cases
To record the details of an incident and link digital evidence to the incident, you can create a case, and then share the case with other investigators within or outside your organization.
Video:
Watch this video to learn more. Click the Captions icon (CC) to turn on video captions in one of the available languages. If using Internet Explorer, the video might not display. To fix this, open the Compatibility View Settings and clear Display intranet sites in Compatibility View.
Text:
What you should know
If a case is no longer active, you can close the case. Closed cases are still part of the system and remain searchable. After a case is closed, only users or groups that have the Manage permission level for the case can reopen the case.
To create a case:
Click .
Click and enter a name for the case.

Enter values for the following settings:

Record number:

A reference number for the case.

Incident number:

You can use this field to add external reference numbers to a case.

Category:

The type of incident. For example, you can categorize thefts as being either employee theft or shoplifting. You can only select one category per case.

Department:

The department within your organization that is responsible for the case. You can only select one department per case. For example, for a theft case, you can assign the case to the Loss Prevention Department. This field is mandatory.

Description:

A description of the case. Be descriptive so that others can easily find your case when searching for cases.

Tags:

One-word keyword entries that identify the case and help users find the case when searching all cases. Ensure that you enter synonyms or alternate words for the type of incident. For example, for a case about theft, you can enter the tags

Stealing

or

Shoplifting

.

Location:

Set the location where the incident occurred. Type the location, or click

View map

(

) to search for the location on a map.

Permissions:

The users or user groups that you want to share the case with. You can give the users or groups

View only

,

View and download

,

Edit

, or

Manage

permission levels. However, at least one of the users or groups that you add must have full access (

Manage

permission level) to the case.

IMPORTANT:

By selecting a department, the users, along with their respective permission levels to new cases, are displayed in the

Permissions

section after the case is saved.

Files:

The video files and other file types that you want to associate with the case. You can add files to the case by dragging the files into the

Files

field.

Click

Save

.
An email inviting users to view the case details is automatically sent to all of the users you assigned the case to.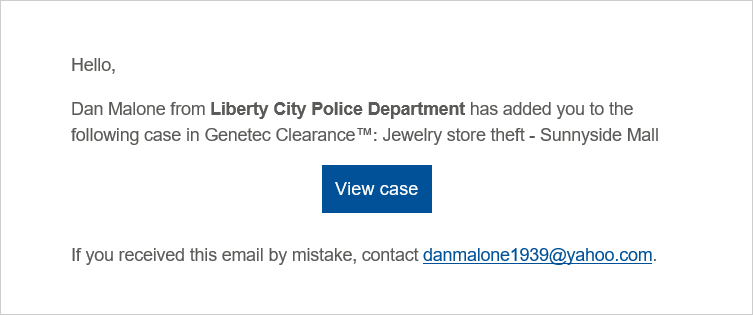 Example
The following image shows an example of a case about employee theft. Because the case is assigned to the Loss Prevention Department, the members of this department automatically appear in the
Permissions
section.